How To Get/Subscribe Snapchat Plus Free: Following in the footsteps of WhatsApp Business and Telegram, Snapchat has also launched a premium membership subscription service to increase its revenue – Snapchat+ (Snapchat Plus).
Yes, you heard that right, Snapchat plus is a premium membership plan under which the app gives its users access to "a variety of exclusive, expensive, experimental and pre-release features". If you want to use this given premium features of snapchat plus, you just have to recharge $3.99 USD every month and exclusive, experimental and pre-release features will be added to the premium app.
These features of Snapchat plus premium membership plan may improve and personalize your Snapchat experience into a deep level of app experience. Additionally the premium membership plan allows you to go deeper into the app's most used exclusive and pre-release amazing features before everyone else!
In this article, we will discuss about Snapchat Plus and How to get/ subscribe Snapchat Plus.
What Is Snapchat Plus?
If you have installed the Snapchat app and you get/subscribed the app of their premium subscription then now it will be converted to the Snapchat Plus or Snapchat premium. That is means Snapchat Plus is also named as Snapchat premium. The feature after the premium subscription of Snapchat provide access to exclusive, experimental, and pre-release features. The premium feature includes to pin the chat with your Best Friend, access to custom Snapchat icons and a unique badge also.
Snapchat Plus Subscription includes following features:
Priority story replies

Pin a friend as  #1 BFF

See your orbit with BFF

Custom camera options

Get access to exclusive Snapchat icons

Chat wallpapers

Display a badge in your profile

Post view emoji

Exclusive Bitmoji backgrounds

Custom story expiration

Ghost Trails

Custom notification sounds

Custom app icons

See your Friend's activity in the last 24 hours

See how many friends have rewatched your story (latest features of Snapchat Plus)
How To Get/Subscribe Snapchat Plus Free 2023?
Steps to get/subscribe Snapchat Plus Free 2023:-
Step 1: Open Snapchat App.
Step 2: Go to your Snapchat Profile Page.
Step 3: Now, Tap on Snapchat+ banner card at the top.
Step 4: Choose a subscription to start your 7-day free trial.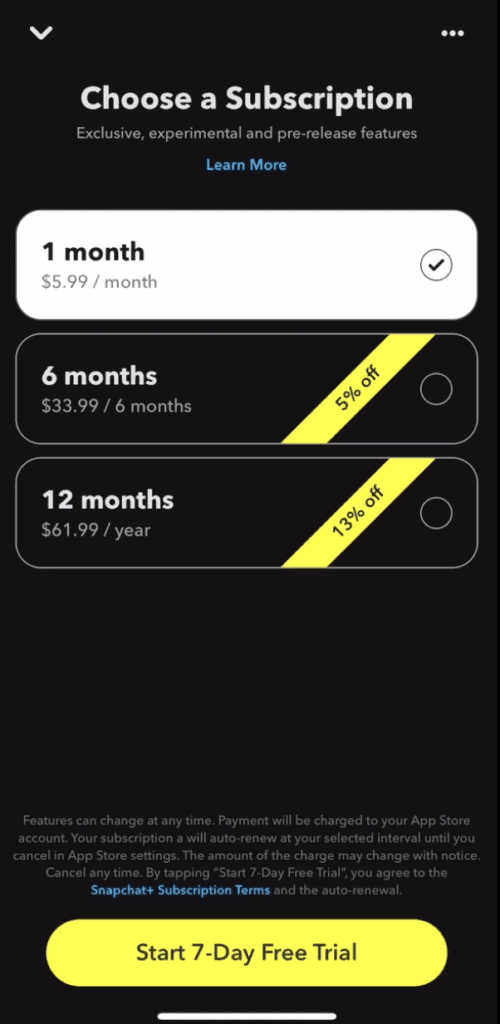 Step 5: Choose Subscription period like 1 month, 6 month or 1 year.
Step 6: After choosing subscription period, follow on-screen instruction to complete the payment
Step 7: Once you've successfully subscribed to the premium feature, you might need to restart the Snapchat app for the Snapchat+ feature options to appear.